2019 Kia K900 Driving Impressions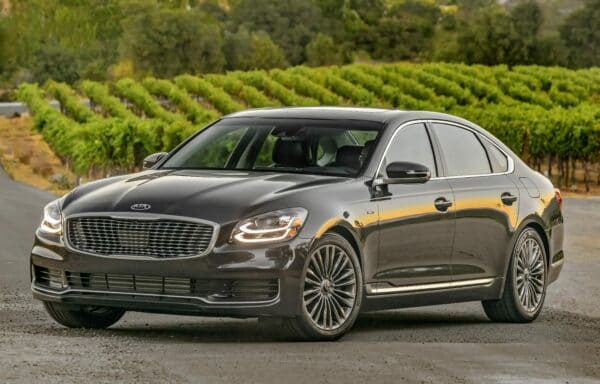 The K900 straddles the luxury and performance world. The ride is creamy while the powertrain is beefy.
Twin turbos make up the difference under the hood. The twin-turbo V-6 delivers 365 horsepower and 376 pound-feet of torque to all four wheels via an 8-speed automatic. The power comes on with an urgency that translates into a 5.7-second 0-60 mph time, but with 4,700 pounds to carry, it's smoother than it is stunning.
There are selectable modes for the driver to set the performance characteristics. With the torque biased toward the rear in its default mode, 50 percent of the power can move to the front to balance traction; or in Sport mode, up to 80 percent of the power goes to its rear wheels.
The suspension is the usual independent setup, with struts in front and multiple links in rear, and the steering is the usual electronic. The sophisticated all-wheel-drive system can divide the power between the front wheels and between the rear wheels as well, which helps the handling a lot.
In Comfort mode, the steering relaxes, while the available adaptive dampers render the ride super-smooth, with a mere trace of the wallow of the previous model.
In Sport mode, the K900 gets more assertive. The throttle is more assertive, the transmission stays in its gears longer, the steering gets heavier, and the suspension tightens up for compelling curves. The 19-inch Michelin touring tires inspire confidence on fast sweepers, but sudden hairpins are too demanding for the transmission, as it tries to stay calm. Big bumps are the K900's Achilles heel; it could use a drive mode between Comfort and Sport.